Outlander Kitchen Celebration!
In recognition of the mention of our original Lord John Grey in the Forward by Diana Gabaldon we're offering 10% off of all our black teas until August 31. We hope that this will flatter his lordship as much as when we christened this tea in his honor back in 2008. Use code "OKB" at checkout!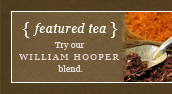 Tea is personal. Tea is tradition.
Tea is family.