ATTENTION - From February 28-March 16 we will be unable to ship orders. Any orders placed during this period will receive an automatic 25% discount in order to compensate for the delayed shipment, simply enter Coupon Code "March" at checkout.
As always, thank you for your patronage.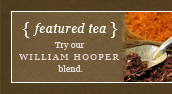 Tea is personal. Tea is tradition.
Tea is family.